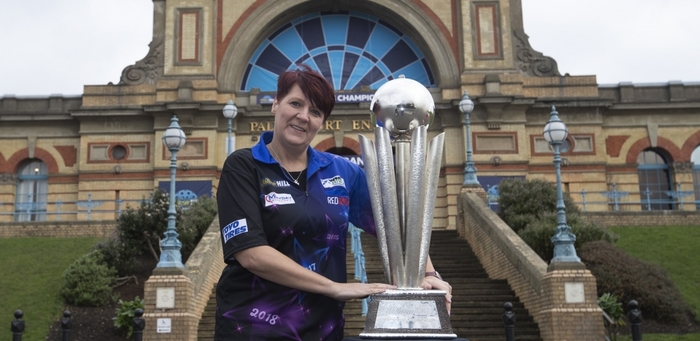 Am Wochenende gab es neben der European Tour in Deutschland auch noch die PDC Women´s Tour, bei der es um die begehrten 2 Startplätze für die Frauen bei der PDC WM im Dezember ging. An zwei Tagen gab es insgesamt 4 Turniere und von Anfang an war es ein spannendes Match der Favoriten. Am Tag 1 holten sich Lisa Ashton und Deta Hedman sich jeweils einen Sieg, am zweiten Tag dann ein weitere Sieg für Ashton und einer für Fallon Sherrock. Am Ende wurde es dann Spitz auf Knopf. Lisa Ashton war mit zwei Siegen klar durch, aber Sherrock und Hedman waren absolut gleich auf in der Order of Merit. Am Ende wurde so entschieden:

PDC Women's Series - tie for second place in Order of Merit explained
Deta Hedman & Fallon Sherrock were tied on £2,250 won.
Both secured 18 points from matches won from the last 64 onwards.
Deta Hedman won 85 legs, Fallon Sherrock won 83 legs.

Damit ist die Queen des Palace nicht mit dabei im Dezember, stattdessen darf Deta Hedman neben Lisa Ashton daran teilnehmen.

PDC Women's Series
Saturday October 17, Barnsley Metrodome
Event One
Quarter-Finals
Lisa Ashton 4-0 Louise Pearson
Joanne Lock 4-3 Beau Greaves
Deta Hedman 4-1 Corinne Hammond
Fallon Sherrock 4-0 Felicia Blay

Semi-Finals
Lisa Ashton 5-1 Joanne Locke
Fallon Sherrock 5-4 Deta Hedman

Final
Lisa Ashton 6-3 Fallon Sherrock

Event Two
Quarter-Finals
Aileen de Graaf 4-0 Tracey Davies
Lorraine Winstanley 4-1 Annmarie Potts
Deta Hedman 4-0 Vicky Pruim
Fallon Sherrock 4-1 Donna Gleed

Semi-Finals
Aileen de Graaf 5-3 Lorraine Winstanley
Deta Hedman 5-1 Fallon Sherrock

Final
Deta Hedman 6-5 Aileen de Graaf

PDC Women's Series
Sunday October 18, Barnsley Metrodome
Event Three
Quarter-Finals
Deta Hedman 4-3 Fallon Sherrock
Tracy North 4-2 Aileen de Graaf
Corinne Hammond 4-1 Jo Clements
Lisa Ashton 4-3 Vicky Pruim

Semi-Finals
Deta Hedman 5-0 Tracy North
Lisa Ashton 5-4 Corinne Hammond

Final
Lisa Ashton 6-3 Deta Hedman

Event Four
Quarter-Finals
Fallon Sherrock 4-2 Deta Hedman
Lisa Ashton 4-0 Eleanor Cairns
Corinne Hammond 4-2 Lorraine Winstanley
Laura Turner 4-1 Maria O'Brien

Semi-Finals
Fallon Sherrock 5-1 Lisa Ashton
Corinne Hammond 5-1 Laura Turner

Final
Fallon Sherrock 6-2 Corinne Hammond