Der Monat begann mit dem ersten Major Turnier des Jahres - dem Masters. Nach der WM Pause und kurz vor dem Start der Premiere League spielen hier die Top16 der Order of Merit das erste große Event des neuen Jahres. Hier stellt man fest, wer am fittesten aus der Winterpause gekommen ist. Das Turnier wurde die letzten Jahr stets von MvG dominiert, doch der schied direkt in der ersten Runde aus und der aktuelle Weltmeister Peter Wright machte da weiter, wo er bei der WM aufgehört hatte und holte sich gleich den ersten großen Titel des Jahres.
2020 Ladbrokes Masters
Sunday February 2 - Afternoon Session
Quarter-Finals
Michael Smith 10-6 Adrian Lewis
Nathan Aspinall 10-8 Jonny Clayton
Gary Anderson 10-2 Gerwyn Price
Peter Wright 10-0 Dave Chisnall
Evening Session
Semi-Finals
Michael Smith 11-10 Nathan Aspinall
Peter Wright 11-7 Gary Anderson
Final
Peter Wright 11-10
Michael Smith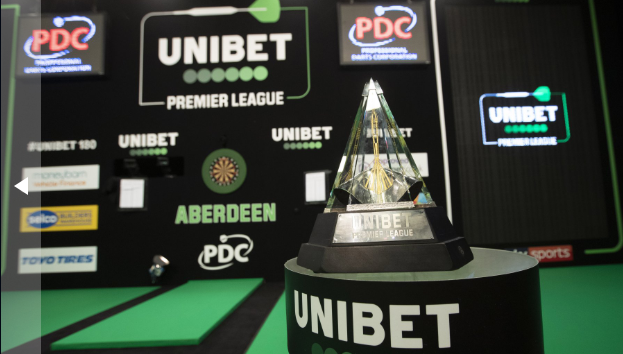 Direkt danach startet die Premier League, hier die Ergebnisse von Night 1:

2020 Unibet Premier League Night One
Thursday February 6
P&J Live, Aberdeen
Glen Durrant 7-3 Michael Smith
Gary Anderson 7-5 Daryl Gurney
Michael van Gerwen 7-5 Peter Wright
Nathan Aspinall 7-3 John Henderson
Gerwyn Price 6-6 Rob Cross
Der weitere Februar stand dann auch im Zeichen der ersten Players Championship Events, am ersten Wochenende siegten Gare Anderson und Nathan Aspinall
Players Championship One
Saturday February 8
Quarter-Finals
Brendan Dolan 6-3 Maik Kuivenhoven
Jeff Smith 6-5 Peter Wright
Adrian Lewis 6-3 Steve Beaton
Gary Anderson 6-2 Joe Cullen

Semi-Finals
Jeff Smith 7-2 Brendan Dolan
Gary Anderson 7-3 Adrian Lewis

Final
Gary Anderson 8-4 Jeff Smith
Players Championship Two
Sunday February 9
Quarter-Finals
Gabriel Clemens 6-2 Jamie Hughes
Nathan Aspinall 6-4 Peter Wright
Dirk van Duijvenbode 6-4 Ross Smith
Gerwyn Price 6-0 Mickey Mansell

Semi-Finals
Nathan Aspinall 7-0 Gabriel Clemens
Gerwyn Price 7-4 Dirk van Duijvenbode

Final
Nathan Aspinall 8-3 Gerwyn Price
Und so wechselten sich die Premier League und die nächsten Players Championship Events immer ab.
2020 Unibet Premier League Night Two
Thursday February 13
Motorpoint Arena, Nottingham
Rob Cross 7-5 Nathan Aspinall
Gerwyn Price 6-6 Michael Smith
Gary Anderson 6-6 Peter Wright
Glen Durrant 6-6 Fallon Sherrock
Michael van Gerwen 7-1 Daryl Gurney
Die Queen of the Palace glänzte auch in Nottingham und erkämpfte sich ein Unentschieden gegen Glen Durrant.

Players Championship Three
Saturday February 15
Quarter-Finals
Michael van Gerwen 6-5 Chris Dobey
Peter Wright 6-3 Joe Cullen
Jeffrey de Zwaan 6-3 Danny Noppert
Ryan Searle 6-5 Glen Durrant

Semi-Finals
Michael van Gerwen 7-3 Peter Wright
Ryan Searle 7-5 Jeffrey de Zwaan

Final
Ryan Searle 8-6 Michael van Gerwen

Ryan Searle holte sich seinen ersten PDC Titel seiner Karriere und MvG ist weiterhin ohne einen Erfolg in 2020.

Players Championship 4
Sunday February 16
Quarter-Finals
Danny Noppert 6-4 Michael van Gerwen
Krzysztof Ratajski 6-4 Gabriel Clemens
Ian White 6-3 Mensur Suljovic
Peter Wright 6-2 Maik Kuivenhoven

Semi-Finals
Krzysztof Ratajski 7-2 Danny Noppert
Ian White 7-6 Peter Wright

Final
Krzysztof Ratajski 8-7 Ian White

Krzysztof Ratajski macht auch in 2020 da weiter, wo er in 2019 aufgehört hatte, er holt sich schon seinen 7.ten PDC Titel.

2020 Unibet Premier League Night Three
Thursday February 20
Motorpoint Arena, Cardiff
Peter Wright 7-5 Rob Cross
Michael Smith 7-1 Jonny Clayton
Nathan Aspinall 7-5 Michael van Gerwen
Daryl Gurney 6-6 Gerwyn Price
Glen Durrant 7-4 Gary Anderson

Players Championship Five
Saturday February 22
Quarter-Finals
Devon Petersen 6-5 Rob Cross
Peter Wright 6-1 Glen Durrant
Steve Lennon 6-2 Gabriel Clemens
Gerwyn Price 6-2 William O'Connor

Semi-Finals
Peter Wright 7-5 Devon Petersen
Gerwyn Price 7-6 Steve Lennon

Final
Peter Wright 8-6 Gerwyn Price
Players Championship Six
Sunday February 23
Quarter-Finals
Michael van Gerwen 6-2 James Wade
Krzysztof Ratajski 6-2 Peter Wright
Stephen Bunting 6-4 Ian White
Gerwyn Price 6-4 Steve Beaton

Semi-Finals
Michael van Gerwen 7-6 Krzysztof Ratajski
Gerwyn Price 7-3 Stephen Bunting

Final
Gerwyn Price 8-7 Michael van Gerwen
Unibet Premier League
Night Four
Thursday February 27
3Arena, Dublin
Glen Durrant 5-7 Nathan Aspinall
Rob Cross 5-7 Gary Anderson
Daryl Gurney 5-7 Michael Smith - Michael Smith hits nine-dart finish
William O'Connor 4-7 Michael van Gerwen
Gerwyn Price 7-1 Peter Wright
Am letzten Wochenende des Februar startete dann die PDC Europe Tour, doch dass dann im März Rückblick.