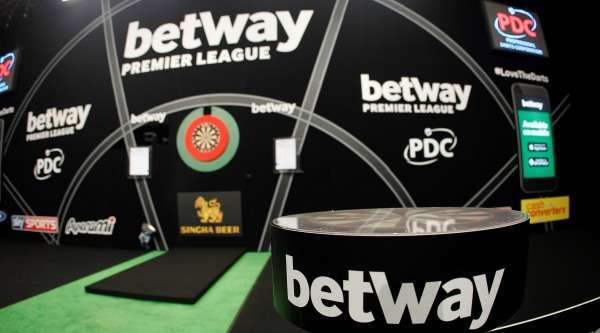 Nach der Judgement Night gestern Abend hat die PDC gerade den Spielplan für die letzten 6 Spieltage herausgegeben. Ab sofort sind ja nur noch 8 Spieler dabei, trotzdem wird es aber weiter 5 Spieler pro Abend geben, zumindest die nächsten 4 Spieltage,so das es für je 2 Spieler jetzt immer 2 Spiele pro Abend geben wird. Night 14 und 15 gibt es dann nur noch 4 Spiele am Abend und dann wird sich entscheiden, wer am Ende in die Play offs einzieht.


Betway Premier League
Night Ten - April 7
Sheffield Arena
James Wade v Raymond van Barneveld
Gary Anderson v Phil Taylor
Robert Thornton v Michael van Gerwen
Adrian Lewis v Peter Wright
Phil Taylor v James Wade


Night 11 - April 14
The SSE Arena, Belfast
Robert Thornton v Peter Wright
Raymond van Barneveld v Phil Taylor
James Wade v Adrian Lewis
Michael van Gerwen v Gary Anderson
Raymond van Barneveld v Robert Thornton


Night 12 - April 21
Bournemouth International Centre
Michael van Gerwen v Peter Wright
Raymond van Barneveld v Adrian Lewis
Gary Anderson v James Wade
Phil Taylor v Robert Thornton
Adrian Lewis v Michael van Gerwen


Night 13 - April 28
The Barclaycard Arena, Birmingham
Peter Wright v Phil Taylor
Raymond van Barneveld v Gary Anderson
Adrian Lewis v Robert Thornton
James Wade v Michael van Gerwen
Peter Wright v Gary Anderson


Night 14 - May 5
The Manchester Arena
James Wade v Peter Wright
Gary Anderson v Robert Thornton
Michael van Gerwen v Raymond van Barneveld
Adrian Lewis v Phil Taylor


Night 15 - May 12
The Ahoy Arena, Rotterdam
Robert Thornton v James Wade
Adrian Lewis v Gary Anderson
Phil Taylor v Michael van Gerwen
Peter Wright v Raymond van Barneveld


Play-Offs - May 19
The O2, London

Semi-Finals
Final

Game on!